ERISA Fiduciary Standards: Pitfalls, Lessons and Best Practices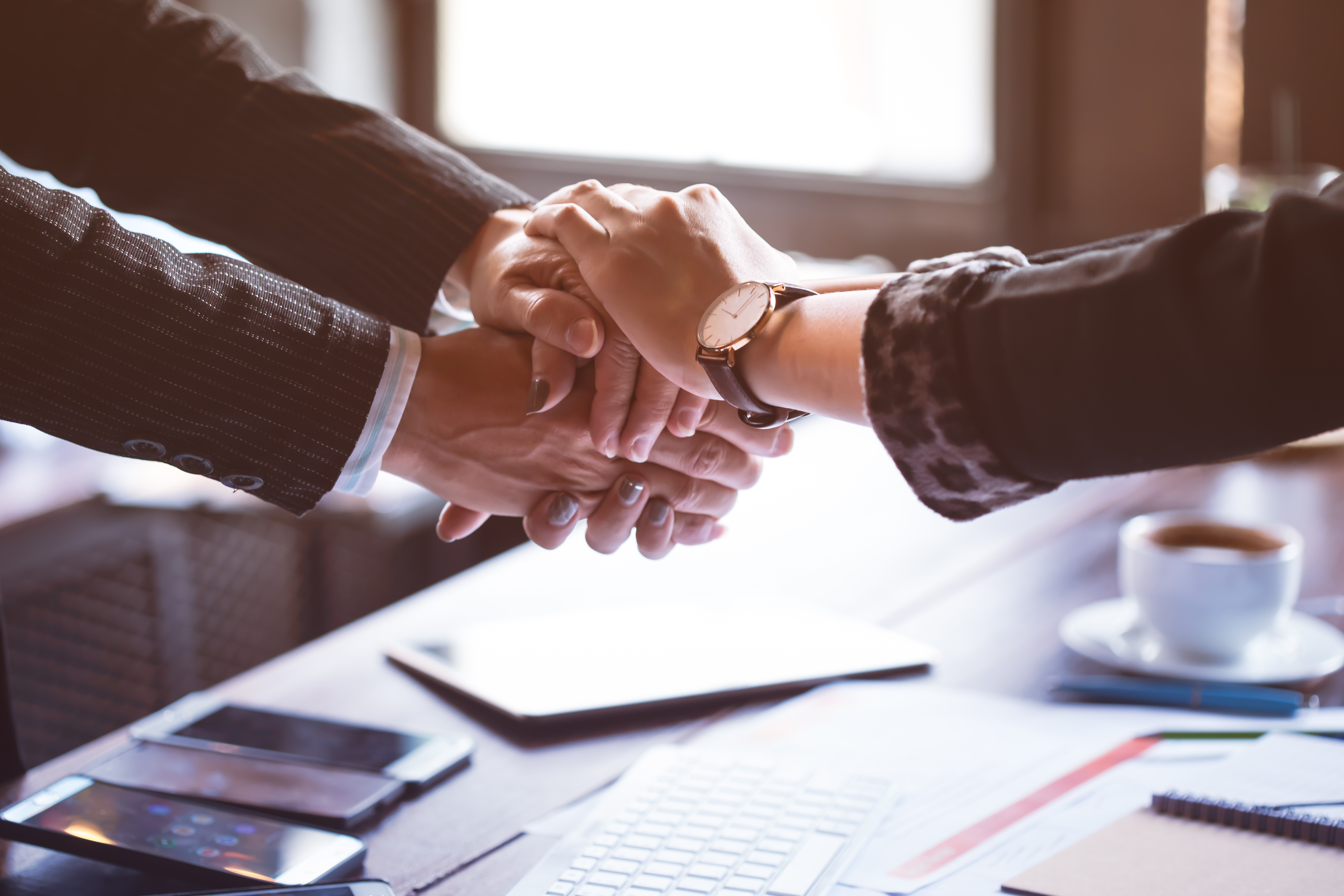 "With great power comes great responsibility." This solemn quote, originally uttered in a Spider Man comic, seems apropos to the duties employers must fulfill as retirement plan fiduciaries. As it implies, fiduciary responsibility should not be taken lightly.
So what, exactly, is fiduciary responsibility? In short, it's the duty plan sponsors and fiduciaries have to protect the best interests of retirement plan participants, retirees, and their beneficiaries.
The Employee Retirement Income Security Act (ERISA), the law that governs retirement plans, outlines these responsibilities. In
doing so, ERISA holds fiduciaries to specific standards of conduct because they act on behalf of retirement plan participants and their beneficiaries—a critical role, indeed.
ERISA defines a fiduciary as anyone who manages an employee benefit plan, like a retirement plan, and its assets. To properly fulfill their responsibilities, retirement plan fiduciaries must understand the rules under ERISA and how to follow those rules in order to reduce their liabilities and ensure they're acting in the best interests of the plan and its participlants.
Who is a fiduciary?
It's important for retirement plan fiduciaries to be clear about their roles. Under ERISA, fiduciary duty is based on the functions an individual performs, not their title. According to the Department of Labor (DOL) and the Employee Benefits Security Administration (EBSA), the key to determining if an individual or entity is a fiduciary is whether they are exercising discretion or control over the plan.

The duty to act "prudently" is one of a fiduciary's primary responsibilities under ERISA. As mentioned above, the law holds fiduciaries to certain standards of conduct, including the following responsibilities:
Loyalty to the plan: In other words, acting solely in plan participlants' and their beneficiaries' interests, and
with the exclusive purpose of providing them benefits and avoiding conflicts of interest
Carrying out their duties prudently—act with the skill, care, prudence and diligence that a retirement plan professional would under similar circumstances
Following plan documents (unless inconsistent with ERISA regulations)
Diversifying plan investments
Paying only reasonable plan expenses
Providing participants necessary information to make informed decisions
ERISA's prudence standard requires expertise in several areas, including investments. However, if fiduciaries don't have the required expertise, the expectation under ERISA is that they will hire someone with professional knowledge and experience to carry out the investment management and other functions. Prudence focuses heavily on the processes fiduciaries use to make decisions; therefore, documenting those decisions and providing support for their basis is a critical task for fiduciaries to comply with regulations.
ERISA standards: Best practices
The following is a list of ERISA standards that may serve as best practices, along with some action steps to help fiduciaries fulfill their responsibilities.

Best practice #1: Create a statement of fiduciary responsibilities
The purpose of this is three-fold: to document the processes used to carry out fiduciary responsibilities, reduce fiduciary liability, and demonstrate that fiduciaries have followed a documented process (critical during a DOL or routine audit, for example).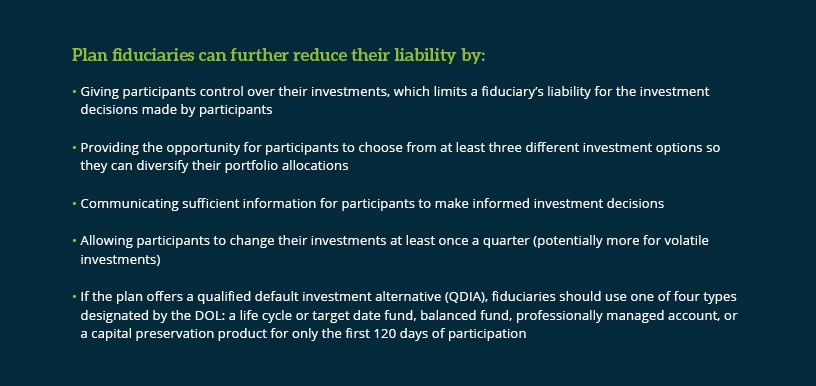 It is important to note that while fiduciaries' liability may be limited for the specific investment allocations chosen by participants, as well as default or automatic investments, they are still responsible for the selection and monitoring of the investment options and alternatives offered by the plan.
Best practice #2: Develop an investment selection process
Only about half of all defined contribution plan sponsors have a written investment policy statement, according to studies by PSCA, Hewitt Associates and BARRA Rogers Casey. With a written investment policy statement (IPS), plan fiduciaries can't effectively select and monitor a plan's investment options nor ensure "procedural prudence" under ERISA.
An IPS is useful in guiding a retirement plan committee's decis ion-making process around investment selection, including choice of asset selections, reviews of his torical performance data for all available options, and the initial processes for investment selection/review/swapping funds in and out of the lineup.
Plan fiduciaries also have the option to hire "prudent experts," whereby they delegate all or some of their fiduciary duties to service provider(s).
Most commonly, plan fiduciaries will hire outside experts to manage the plan's investments. These agreements are ordinarily structured so that the service provider assumes fiduciary responsibility for the selected functions being performed. However, while they may not be held liable for the manager's investment decisions, plan fiduciaries are ultimately responsible for the selection of the manager and ongoing monitoring of their activities.
Best practice #3:

Implement claims and appeals procedures
ERISA sets standards and outlines requirements for fiduciaries on how to process retirement plan benefits claims, the timeline for rendering a decision, and participants' rights when a claim is denied.
These must be documented and provided to participants, usually in their Summary Plan Description—the document that explains how the plan works, its benefits, and the plan's procedures for filing claims. These must be communicated clearly to participants, easy to understand, and easily accessible.

In addition, retirement plans may not charge any filing fees or costs for filing claims and appeals. Generally, claims must be evaluated and decided within 90 days (or 180 days if an extension applies). If a claim is denied, the plan must notify the participant in writing, in plain language that includes specific reasons why the claim was denied and plan provisions on which the decision was based. If more information is needed to review the claim, the letter must state that, as well as what supplemental information is needed and why. The notice must also explain the plan's procedures and deadlines for submitting an appeal of the claim for full review.
Plan fiduciaries have 60 days to review an appeal (120 if an extension applies, and longer in special situations). In addition, they must provide—at no cost to the participant—all requested copies of documents, records and other information relevant to the claim. If the appeal is denied, the plan's fiduciaries must send a written notice, again, written in plain language that's easy to understand that details the reasons the appeal was denied and the plan provisions on which the decision was based, and describe available voluntary appeal levels and the participant's right to seek judicial review.
Another reason for plan fiduciaries to clearly communicate the claims process to participants and follow it to a tee is because retirement plan participants may not initiate a lawsuit until all other claim remedy procedures have been exhausted. Vanguard's best practices guide for fiduciaries recommends that plan
sponsors consider adding a provision in their plan document that clearly spells out limitations for initiating benefits claims lawsuits under the plan. ERISA doesn't provide an explicit statute of limitations on benefits claims lawsuits. However, as Vanguard notes, recent court decisions support a timeframe for limitations that is 1. reasonable, 2. may begin prior to the plan's claims appeal process, and 3. doesn't conflict with any other controlling statute.
Best practice #4:

Make sure all bases are covered when communicating plan information to participants
Plan fiduciaries should take proactive steps regularly to make sure participants are aware of their rights and responsibilities under the plan with regard to their benefits and directing their investments. What's more, ERISA requires participants to receive a variety of notices and notifications about the plan.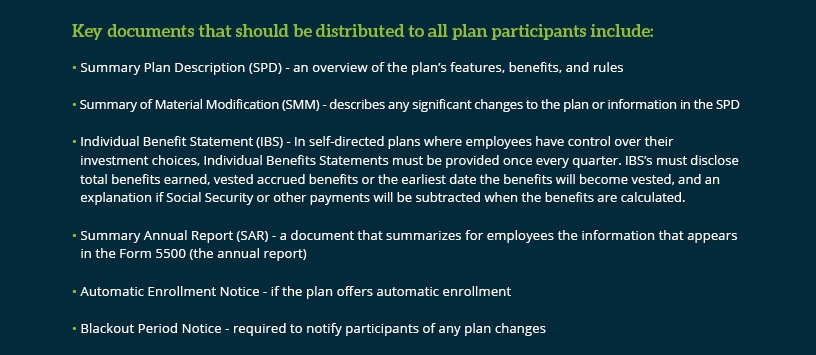 Drilling down, fiduciaries should also provide participants with specific plan-and investment related information as well. Plan-related communications might include general plan information, such as how the plan works and the benefits provided, along with a breakdown of administrative and participant-related fees.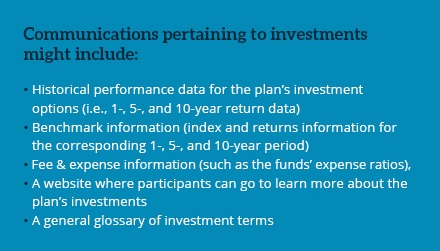 Best practice #5:

Be diligent when entering into contracts with service providers
ERISA-governed plans often choose to hire and contract with consultants, administrators, insurers, investment advisors, and other service providers. ERISA requires plan fiduciaries to act prudently when entering into contracts with service providers. Thus, it's critical to review those contracts carefully, and when possible, negotiate the most favorable terms for your plan.
For starters, all service provider contracts should clearly explain the services to be provided and the related fees.
Additionally, fiduciaries can best protect themselves by following ERISA "standard of care" provisions, which require them to hire an "expert" in the service provider's industry. In other words, the contract should guarantee that the service provider will perform the services in the same way as similar service providers for plans of a similar size and nature as the one they were hired to serve.
Moreover, if the service provider is going to receive protected health information as part of their contracted duties on behalf of the plan, the contract must include special provisions that satisfy the privacy and security rules set forth in the Health Insurance Portability and Accountability Act (HIPAA). For other confidential information, the contract should include protective language and exceptions to ensure that it doesn't get in the way of the plan's administration or ability to satisfy legal obligations.
With regard to investment contracts, terms to add should include most-favored-nations provisions when it comes to fees, and the service provider should be the named fiduciary. On the other hand, fiduciaries should eliminate terms that indemnify the investment manager for malfeasance or unreasonable claw-backs of distributions. All contracts for ERISA plans must contain reasonable termination provisions and address the parties' responsibility upon termination. For example, an outgoing service provider may be required to promptly return the plan's records and reasonably cooperate with the plan's transition to the new service provider.
In addition, when entering into a new contract, plan fiduciaries must obtain the necessary fee disclosures from service providers, and ensure that investment contracts, when applicable, be signed by the plan fiduciary with the power to invest assets (every ERISA plan should have a named fiduciary who is empowered to do so). A solid contract should also prohibit any changes to the service arrangement or fees unless agreed to in writing by the plan and service provider, address whether prior or existing agreements are effective, and may address circumstances under which the plan may audit the service provider.

It's important for retirement plan fiduciaries to understand ERISA standards and adopt best practices that enable them to follow those standards to the letter. Doing so enables fiduciaries to fulfill their responsibilities and standards of conduct as set forth by ERISA, ensures their actions and decisions are compliant with regulations and in participants' best interests, and as such, helps them avoid possible legal action
The standards in this article pertain to ERISA protections for private-sector retirement plans—public sector and non-profit plans are not covered by ERISA. However, these best practices are still applicable, as they provide a context and common sense guide for all fiduciaries, regardless of plan type, who want to ensure their plans and related activities are in compliance with established regulations and industry standards.

For more information about how GuidedChoice can support your plan's fiduciary efforts, call us at 1-888-675-4532 x 101 or email us at info@guidedchoice.com.