Personalization: The Right Approach For Sponsors and Participants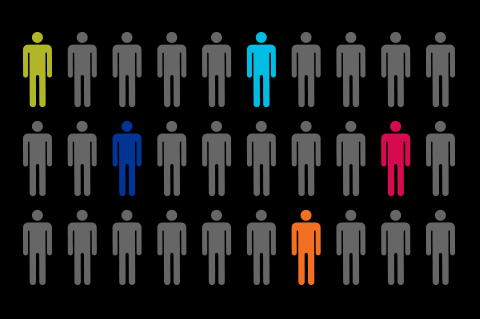 To date, the defined contribution (DC) retirement plan industry has looked to default solutions as a panacea. Automatic enrollment, default investment programs and automatic contribution escalation have been the prescribed "answers" to combat inertia and motivate an under-saved workforce to build their retirement nest egg.
When it came to implementing default investment options, the objective was to keep it simple, which has merit if done the right way. However, defining the "right way" is more complex than it seems. On the one hand, asking employees to make a decision — any decision — in an environment where information is hurtling at us at 64.17MB per second, is essentially a lost cause. There's too much information, and too much noise, to sift through.
On the other hand, in addition to reducing employees' "decision fatigue," employers don't want default options to be too onerous — for themselves or their employees. What's more, fiduciary standards have evolved, putting more responsibility on plan sponsors' shoulders than ever before. And in many instances, yesterday's fiduciary standards have become today's lawsuits. According to asset manager Alliance Bernstein, half of plan sponsors don't think they're fiduciaries, let alone have a clue about how to effectively fulfill their fiduciary responsibilities.
All of this results in a conundrum, indeed. What's a plan sponsor to do?
In an effort to simplify the retirement investing process for participants and reduce their fiduciary burden, many plan sponsors have implemented traditional target date fund (TDF) solutions as their qualified default investment alternative (QDIA) for newly enrolled DC plan participants. Ninety percent of plans offer a TDF, according to data from HR solutions provider Aon Hewitt. TDFs are a compelling solution for plan fiduciaries because they help reduce fiduciary liability, but are they what's best for participants?
Increasingly, we are finding that when it comes to traditional off-the-shelf target date funds, the answer is no. A TDF assumes that all individuals with the same retirement date should be invested the same way. Therefore, the easy answer is to default an individual into a TDF, assuming some future retirement date relevant to their current age. By defaulting them into a TDF, one barrier to entry into the plan — where to invest — is easily resolved.
Yet it creates other problems. Participants defaulted into TDFs assume they are being taken care of and that they're doing all that they need to do to create sufficient savings for retirement. When they find out the plan has not taken care of them the way they expected, however, their confidence in the very financial institutions they presumed "had their back" is shaken. In large part, TDFs have failed to provide the financial security individuals expected, nor have they helped to increase savings rates — the toughest issue to tackle.
Ironically, these were the very problems TDFs were created to solve. For individuals, the perceived problem was that a lack of investment understanding led to low savings rates in retirement plans. For asset managers, the problem was assets were being diverted to other asset managers. Asset managers make money by managing assets, so the higher the assets, the more revenue they receive.
Innovation in the mutual fund industry birthed a solution — a mutual "fund of funds," made up the asset manager's mutual funds, that takes the decision-making out of the investment process for retirement savers. The assumed endgame was that individuals would save more if we made investing easy for them, and revenue for TDF asset managers will increase since plan assets will aggregate into their funds. It was a veritable win-win.
However, TDFs didn't solve the real problem — savings rates, which are by far the most important element to retirement readiness, didn't budge. Not only that, again, TDFs created a false sense of security. Individuals may assume they'll be taken care of no matter what, however, our sense is that Americans intuitively know that unfortunately, their best interests are not among financial institutions' highest priorities.
As such, it's becoming increasingly evident that the one-size-fits-all TDF is not the answer. They may work well with the 20-something crowd, which has less wealth, limited knowledge and a long time horizon. The irony is the data shows this group doesn't even like the word "retirement," nor do they think they'll be in a position to retire. Research has shown that even baby boomers don't expect as comfortable a retirement as their parents. In fact, they desire the ability to move in and out of retirement at will. Currently, more than 25% of people over age 65 re-enter the workforce. As one moves up the age spectrum, divergence becomes an issue, rendering a TDF useless at best and completely inappropriate at worst.
So what now? We need a more personalized approach to retirement savings that solves the big issues for individuals — where do I invest and how do I make sure I am saving enough to create a sustainable retirement income? Thankfully, the latest technology enables us to provide higher-quality personalized solutions at lower costs. Moreover, these solutions can be tailored to solve plan fiduciaries' issues and individuals' planning concerns while minimizing record keepers' efforts.
No two people are alike; it only makes sense that their retirement savings options should offer them options that account for this diversity. For those who are expecting to retire in the traditional sense, a personalized target date solution that accounts for Social Security and a pension, if they have access to one, may make sense. Those who desire to move in and out of the workforce either before or after retirement may opt for a solution that provides a personalized target date solution whereby the target date can change, or there can be multiple target dates. For those who want to account for multiple household accounts and increased complexity, a managed account solution may be best.
The future is now. GuidedChoice has designed a solution that solves the issues discussed in this article using a single platform, and offers employers and individuals the flexibility and support they desire. Our only bias is to put the individual and plan sponsor first.
Let's look at the perceived retirement issues we're trying to solve from each party's perspective, and how our solutions are uniquely designed to address them:
Individuals:
Rebuild lost confidence. Thus far, individuals have used their intuition to make a best "guesstimate" of how much retirement income they'll need. Our data shows that providing individuals the ability to determine their retirement readiness is the most effective way to build confidence. They can quickly discern all of their retirement income sources — social security from the government, employer pensions and 401(k)s, IRAs and their own savings. If they lack confidence in any of these sources, they can easily determine how to make changes to improve the security and reliability of their retirement income.
Increase savings if needed. If there is a need for an individual to save more for retirement, we can provide direction to help them optimize their savings.
Make investing easy for those who want it. Our technology makes investing easy, whether it's through a personalized target date solution, a managed account for those with more complex financial situations or who are closer to retirement, or a complete household portfolio. We can also integrate one or more of these to enable a single-click solution.
Drive down costs. While returns on investment aren't always predictable, fees are. GuidedChoice leverages technology to increase personalization and quality while driving down costs.
Understand the best way to spend the money saved. Whether at retirement or before, investors become spenders, and they need to understand how to convert their savings into an income stream. Once again, GuidedChoice leverages technology to help individuals make the best decisions on when to spend from what accounts and which investments. These decisions can help individuals determine the best ways to make their money last throughout their retirement and beyond, if they wish to leave a legacy for their heirs.
Plan Sponsors:
Fiduciary protection. With regulations coming at them from the IRS, DOL and SEC, plan sponsors need to know their solutions providers have their best interests in mind, and will provide protection from a fiduciary standpoint. And sponsors need to make sure all parties involved have participants' best interests in mind. When you partner with GuidedChoice, we become a fiduciary of the plan. Providing appropriate fiduciary protection and serving your participants' best interests are our chief priorities. In addition, we are objective in our approach to working with third-party plan providers such as asset managers and recordkeepers.
Employee benefits have limited budgets, and retirement is just one piece of the pie. With the onset of excessive fee lawsuits, employers have to be sensitive to the asset management fees, including those of TDFs and managed accounts. GuidedChoice's personalized TDFs can serve to decrease costs, and our managed accounts have fee caps to keep costs low.
Corporate values and employee demographics. Employers don't always have the luxury of designing a plan that fits their values, but when they can, they should. Our plan services help plan sponsors determine the best solution for their population that aligns with their values. Our tiers of service enable you to offer your employees the least or most robust advisory services, including personalized target date, managed account or complete household solutions.
Recordkeepers:
Keeping up with regulatory and plan design changes. Change is inevitable, and technology need to be robust enough to support that. Ours is. Using continuous development, we stay ahead of the regulatory curve. Our plan rules engines make it fast and easy to implement changes to plan rules and options.
Service for plan sponsors and participants. Web-based services are helping to reduce costs and increase service levels. GuidedChoice supports our online services with paper, face-to-face and telephone so recordkeepers don't have to.
Tight margins. The recordkeeping business is competitive, which drives down costs without always providing for a corresponding reduction in expenses. GuidedChoice's implementation with recordkeepers is one of the easiest in the industry. But we also have options that don't require any implementation on behalf of the recordkeeper. As such, plan sponsors can still choose our services without significant impact to their recordkeeper.
Asset Managers:
Responding to the competitive environment. Of all the parties in this equation, asset managers have the least significant issues. They simply need to innovate as market pressure is brought to bear, such as with index funds, TDFs and ETFs. GuidedChoice can work with the options the plan sponsor has selected, or if desired, we can select the investments for them. Either way, our objective is to provide an optimal investment path for those using the available investment options in the plan.
At GuidedChoice, our mission is to "keep it simple" while providing the maximum fiduciary protection desired by the plan sponsor, and also making sure that participants have access to the guidance and tools they need to create successful retirement outcomes. We have the ability to be nimble, flexible and unbiased, and the expertise to ensure the plan we serve achieve their success metrics while improving participants' ability to maximize their savings rates. We can also provide them with a personalized retirement planning strategy optimized to help them reach their goals. When you work with GuidedChoice, you get a true fiduciary partner that is focused on making sure that you're protected, and that your participants receive the guidance and advice they need to put them on a path to a more secure financial future. Book an appointment with us today to learn more.