TDF's Just Got Personal:  Introducing a Flexible and Personalized Step Forward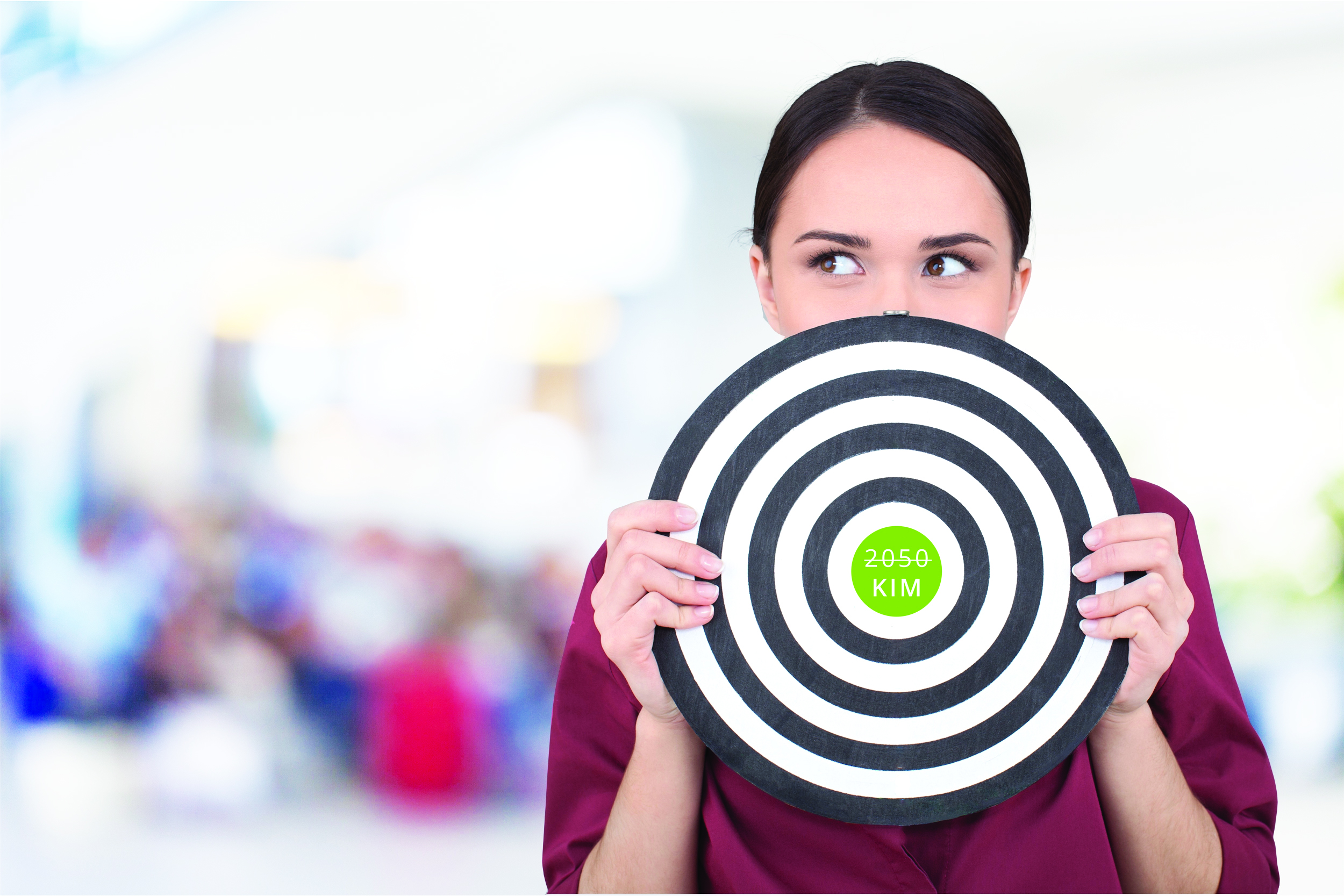 The first quarter always brings the excitement of new insights, new expectations, and new goals. It sets the tone and pace for the rest of the year. It's a happy time.
At least it should be.
The new year also brings its fair share of stress because, for plan sponsors, it's time to critically evaluate plan effectiveness. It's time to answer tough questions.
Who's in, who's out? Are assets up or down? How effective is my plan at helpingmy employees become retirement ready? How do we increase overall plan participation levels and savings rates?
Plans sponsors must determine if plans are meeting all the needs of their workforce and moving the needle.
Sound familiar?
For many, a Qualified Default Investment Alternative (QDIA) is a key component of their plan that is essential in getting participants enrolled. According to a 2018 Callan Institute Survey, 98.8% of non-government plans use a QDIA. Most plan sponsors understand the role a QDIA plays in their plan. And, they understand the necessity of choosing the best and most effective QDIA they can.
But let's face it, plan sponsors are frustrated. Finding a QDIA that's easy to manage AND meets every requirement of the regulations can be tough. They face certain challenges that can sometimes feel overwhelming.
After all, there are lots of boxes to check when trying to make sure that a QDIA meets the needs of the plan:
Asset diversification (over which plan sponsors have the final say)
Ease of understanding for the participants
Ability of the QDIA to fit plan and participant characteristics
Fees and the plan sponsor's responsibility to ensure they are reasonable
Performance monitoring and evaluation
Right now, you might be thinking that a target date fund (TDF) would be the answer because it does check many of these boxes.
And from a traditional standpoint, you would be right.
TDFs get people onto a plan quickly and take care of investment allocations without any effort from the individual. Although these traditional "set-it-and-forget-it" funds have been the go-to choice for the majority of plans across the United States, they also bring their own set of challenges. Two of the most common challenges include:
Not all individuals are the same. Target date funds are aimed at the average person. That would be fine if all participants were average. But they're not. Each participant has unique needs. While TDFs do take care of asset allocation, it's geared to the "average individual." Is that really enough?
No control. With a traditional target date fund, you are typically locked into one fund family in which the majority of underlying funds are proprietary and may not include some asset classes. You lack the flexibility to select other funds or asset classes that might be better suited for your plan as well as potentially bring you cost savings.
But what if there was a new solution? What if you could have:
Greater flexibility and more control
Greater plan customization
Greater individual personalization
What if you could have a solution that checks all of the boxes? Well…the good news is YOU CAN! There's a new solution offered by GuidedChoice. It is an alternative to both the traditional off-the-shelf TDF, as well as your typical custom TDF, and it can be your plan QDIA. It is our Personalized Target Date+ (PTD+). This product overcomes your common TDF challenges and checks all of the boxes to give you a new innovative solution.
PTD+ stands apart because it is:
FLEXIBLE WITH FULL TRANSPARENCY OF FUNDS: This solution can be customized to fit the investment line up of choice. It can use the plan's investment line up OR another unique qualified lineup. This gives the plan advisor/plan sponsor more control to create a lineup that meets the plan's needs, as well as allow the plan to control costs. In addition, the level of personalization is completely up to the plan and can be customized to meet the plan's needs. A key advantage over traditional target date funds is that the underlying investments can easily be changed as market conditions and plan sponsor objectives dictate.
PERSONALIZED: This solution stands apart from traditional target date funds in its unique characteristics. We use anywhere from 4 to 26 different data points to tailor the portfolio to each participant's individual situation. This high degree of personalization results in a glide path targeted to each individual.
APPROVED QDIA: This product is an approved Qualified Default Investment Alternative. Its benefits and characteristics meet the requirements for Fiduciary Liability Protection.
As a fiduciary, you are empowered to employ an investment strategy within your default QDIA that truly meets the needs of your participants. And even better, it's 100% default with zero user engagement.
With this new solution, individuals that would typically be placed into the same target date fund, let's say for example "Target Date Fund 2040", would now get a personalized allocation and glide path that is appropriate for them.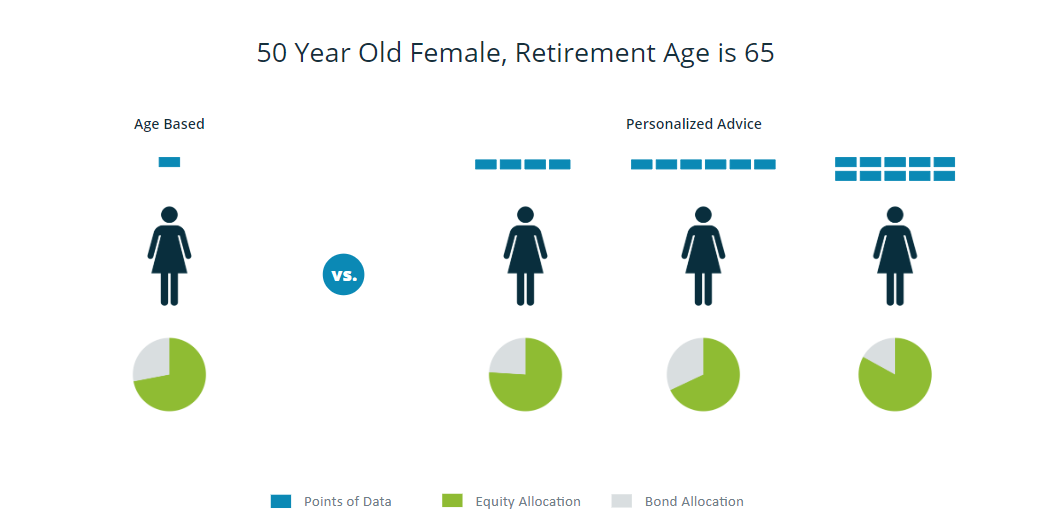 What's even better is that we combine our PTD+ with our Retirement Ready Simulator with Quick Enroll — which is a solution designed to increase savings rates and engagement rates among those that opt out of the QDIA. It GETS PARTICIPANTS OFF TO THE RIGHT START- QUICKLY. This powerful solution addresses the 3 cornerstones of a secure retirement on a one-screen enrollment page with personalized recommendations that include:
Realistic retirement age
Effective savings rates
One-button-click into a personalized targeted asset allocation with glide path
This unique experience engages the participant and gives them the confidence to make better decisions about retirement from the start. Right away, they can make adjustments that are "right for them" and that will steer them toward a successful retirement. They will know what they can expect, how much to save, and when they can retire.
We have seen success in overall participant engagement when participants are brought through this experience. This solution is SIMPLE and FAST in that it takes minimal effort and time on the participants behalf, and in just one click, drops the participant into our PTD+ so they get a personalized "set-it-and-forget-it" account with minimal work.
Positive Outcomes for Participants and Plan Sponsors
This new innovative solution leads to positive outcomes. Not just in improved health for the plan, but in improvements specifically for participants.
With our PTD+, sponsors now have a QDIA default that is more personalized to their participants and one that gives greater flexibility so that sponsors can truly meet the needs of the plan. We've taken the simplicity of a traditional target date fund and upgraded it to a personalized, customized solution for each participant that matches the simplicity and ease of your traditional TDF.
When participants use the simulator, confidence increases because they are in control of what they are accomplishing today and they can quickly make more informed decisions. It helps them clarify and work toward their goals for the future – they aren't settling for a generic target that applies to the "average."
With more confidence, participants become good stewards of their money. They're smart and informed. And that means they're making solid decisions from the start.
If you want to learn more, please give us a call at 1-888-675-4532 x101 or email us at info@guidedchoice.com.