The Retirement System is Broken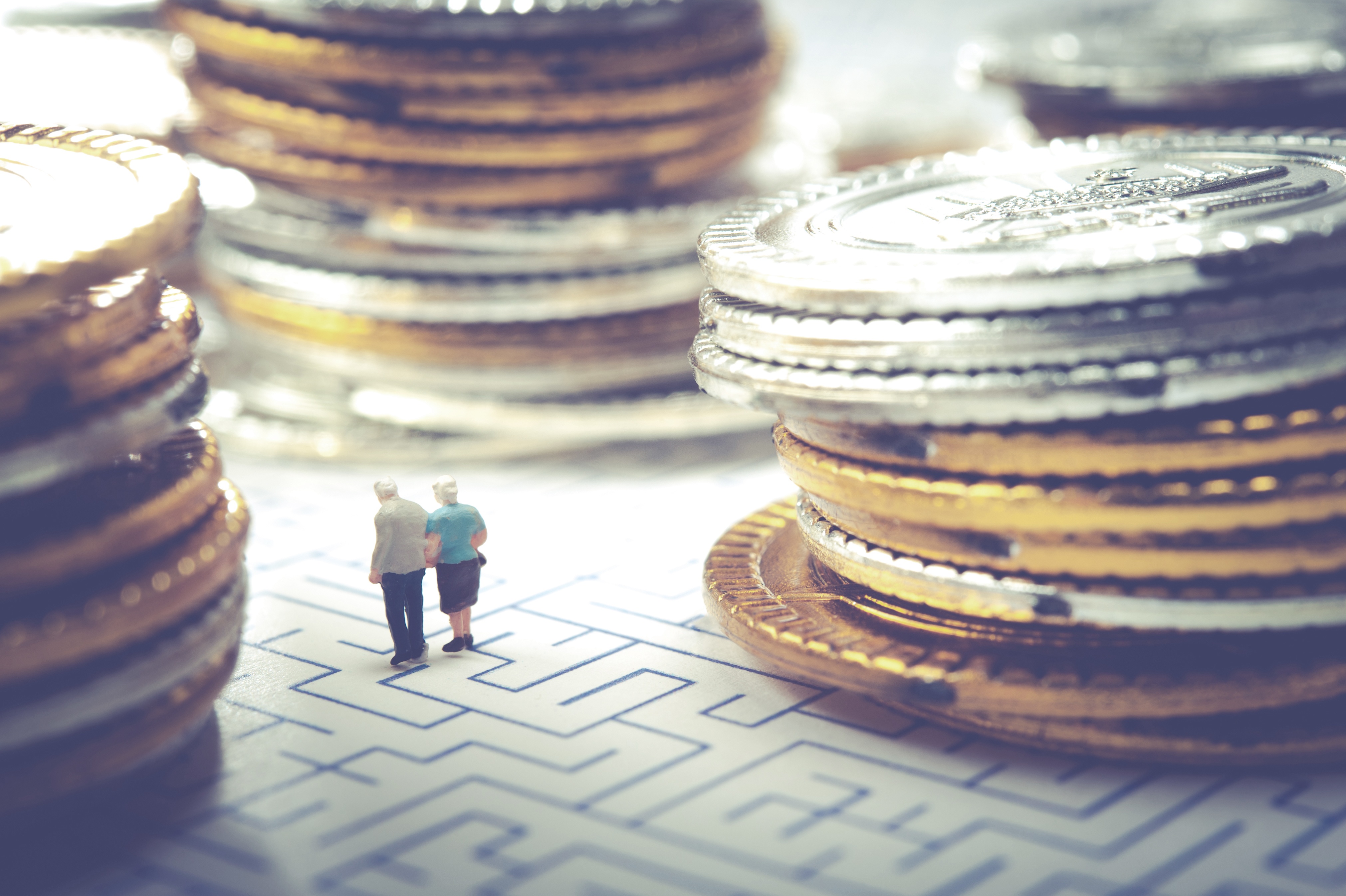 The current retirement landscape is broken. The three-legged stool that's been put in place is wobbly at best. 10,000 people are turning 65 per day and Social Security can't keep up, pension plans have all but disappeared with only 44,869 in 2014 (down from 175,143 in 1983), and our personal savings rate in September 2017 fell to a near decade-low 3.1%. And as financial professionals, we can do our part to help better the lives of those we serve. But first, let's take a quick look at how we got to this point.
The Birth of Retirement Saving
The first pension plan was established in 1875. And by 1940, 25% of all private sector employees were covered by a pension plan. As workers aged and productivity declined, often due to the physical nature of manual labor-based jobs, employers and employees alike determined it best to "retire" those older employees.
Government followed suit on August 14, 1935, birthing Social Security to provide a stipend for those 65 and over. These plans provided for benefits at age 65. However, the life expectancy for males in 1935 was age 59.9, and 63.9 for females. It doesn't take an Economist to see the irony there.
Then, in 1949, an actuary from Metropolitan Life Insurance Company, Reinhard Hohaus, recognized the issues with Social Security and began to tout a solution – the three-legged stool. Those three legs, private insurance, group or employer insurance and social security would provide the workforce with a solid financial foundation. This subsequently morphed to Social Security, employer-based pensions, and personal savings and investments.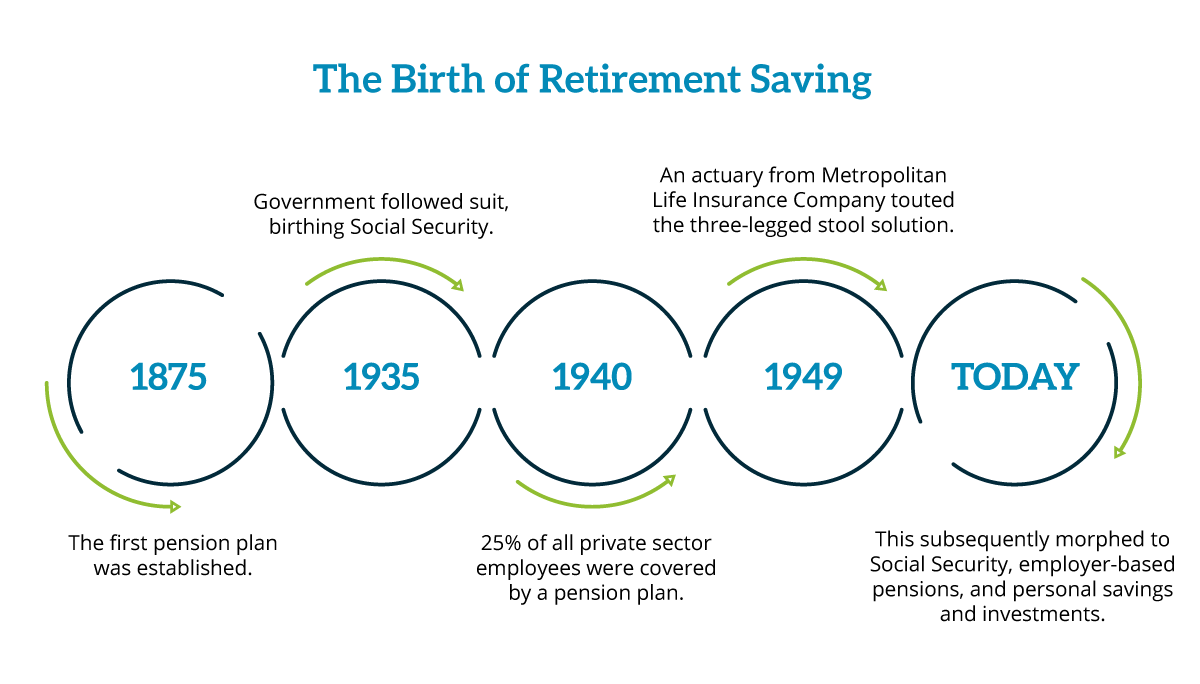 Fast forward to today, and we can see that we're building on a somewhat archaic legacy environment – one fraught with complexity and built by entities who have a vested interest in that legacy. Today we live in an environment where life expectancy for men is 76 and 81 for women. Add to that the shift to a service and knowledge-based gig economy, and one can easily discern why attitudes toward retirement could, and one can argue should, change.
How it's Broken
Private-Sector Pension Plans- Even at its peak, pension plans only covered 30% of the workforce. And throughout this country's history, we've never achieved 100% coverage of the labor force by employer-sponsored plans. As the transition was made to the more portable, less expensive 401(k) plans, this was expected to be a boon to employers and employees alike. But instead, they've become so complicated, so expensive, and so rife with opportunities for mistakes that, given the common thought, we broke the retirement system in the process.
Social Security- Most Americans perceive this to be the most stable leg. Although they don't understand how the system works, expecting they'll get a monthly check in retirement. Social Security, intended to be a safety net, was designed as a pay-as-you-go system. Originally there were 10-12 workers funding benefits for each retiree. And as the number of retirees grows, along with their number of years in retirement, the number of workers needed to fund the benefits grows exponentially and the system is having trouble keeping up.
Personal Savings and Investments- The one leg of the stool that people have the most control over. One would think that alone would make this the most stable leg. Oddly enough, according to the US Bureau of Economic Analysis, our savings rate was trending around 12.5%, starting at 11.2% in 1959 to a high of 17% in 1975, and it's been downhill ever since (with the exception of an anomalous year in 2012 where we bumped up to 11%). Otherwise we hover around 5% and we've even had a negative savings rate in 2005. That simply isn't enough savings for individuals to retire on.
How people are trying to fix things
To create a viable solution, we have to be willing to look at the root issues. First, we need to face the fact that government has failed us. Social Security, the political hotcake, will eventually have to be modified significantly. Employers have recognized that the employment contract has changed significantly. Given the average tenure in a job continues to decline, hitting an all-time low of 4.2 years, employers have modified the plan structures to provide more portability and flexibility. This trend will continue. Individuals will have to pick up the slack to ensure they are able to reach their financial goals. But they need help, and they expect their employers to provide that help.
Many employers are now looking beyond providing financial advice solely for retirement to more robust financial wellness solutions. This makes sense given the majority of employees that come through their doors will not be there when they retire. To be effective, these solutions will need to be robust and highly sophisticated, while remaining easy to use and transferable. That's a tall order but quite possible.
Many employees will have reasonably simple financial plans and need easy tools that will help them get there as efficiently as possible. If employers provide the solutions through a combination of qualified plans, payroll deduction, and the tools to help participants make wise decisions, the data shows that there's a much higher incidence of using the solutions.
As fiduciaries and plan advisors, we have the duty to help our participants be successful in reaching their retirement goals. But how do you accomplish then when so many things are failing and others have already failed to show success?
As a 3(38) fiduciary, we're led by the mission to bring financial freedom to everyone. And to deliver on that mission, we work to put tools in the hands of investors that can help them change and improve their future by helping them understand how critical decisions impact their retirement savings. We want them to feel confident that they're making the right moves, that they're saving enough, and that they're on track to reach their goals. By partnering together, we can all do our part to fix the retirement system by putting participants on the path to success.
For more information about GuidedChoice, click here.