Harnessing the Power of Retirement Readiness to Enhance Plan Success and Improve Outcomes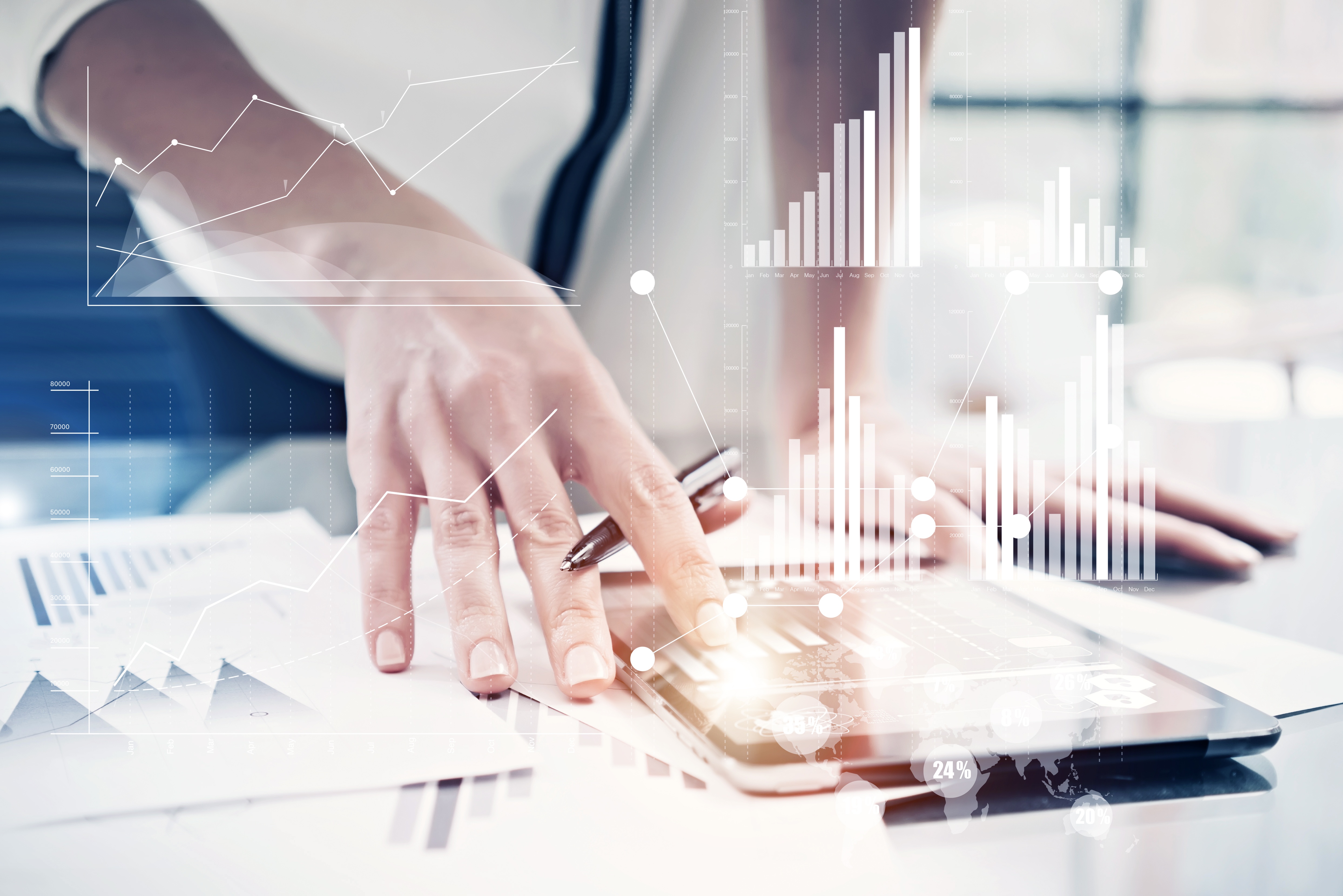 Historically, retirement plan sponsors, advisors and recordkeepers have assessed plan health based on fundamental metrics such as participation and deferral rates. While these are significant on their own merits, they don't reveal anything about "retirement readiness" — that is, how financially prepared an organization's workforce is for retirement. After all, the key purpose of a workplace retirement plan is to provide employees an opportunity to set aside a portion of their earnings to build financial security for their so-called "golden years."
It's also a valued employee benefit, which makes it an effective recruiting and retention tool. Logically, it's important for employers and plan providers to be able to measure the plan's health, as well as identify areas for improvement
so they can implement changes to create better outcomes for the plan and participants. Until recently, the data required to determine problem areas in retirement plans was challenging to come by.
A new partnership between fintech providers GuidedChoice and dailyVest makes it easy for plan sponsors and providers to drill down to see what's working for the plan, and what isn't, and help them make better-informed decisions about how to improve it.
Why focus on readiness?
There are a variety of reasons why it's important for employers and plan service providers to focus on retirement readiness. For starters, most employers don't have a clear picture of how financially prepared their employees are to support themselves during their post-working years. However, an employee population that is under-prepared for retirement represents a variety of potential risks to a business, including reduced productivity due to financial stress, as well as increased labor costs and higher healthcare premiums, especially for older employees who may end up staying on the job longer than planned. What's more, employees who work longer than expected or retire early unexpectedly may cause unplanned disruptions and knowledge gaps in an organization's workforce, negatively impacting operations and bottom-line results. Given the business implications, "39% of plan sponsors view retirement readiness as a risk today, and 44% view it as a risk two years from now," according to research from Willis Towers Watson.

What's more, employees struggle to understand their own guideposts of retirement readiness. As such, growing numbers of workers are looking to their employers to help them determine if they're on track to retire, and if not, how to course correct so they can improve their chances of retiring comfortably.
Nearly one-fifth of all Americans approaching retirement are at the low end of the readiness spectrum (not ready at all), having saved 20% or less of the money they will need for retirement, according to a survey by the Indexed Annuity Leadership Council.
Additionally, workers want their employer's help to convert their savings into a lifetime stream of income. In fact, employees are six times more likely to want companies to be more involved, not less, in providing for their retirement security in the next five to 10 years, (61% vs. 9%), according to MetLife's 2017 Role of the Company survey.

Quantifying retirement readiness
"Retirement readiness" is the ability for an employee to retire with sufficient income to maintain their current standard of living through retirement. However, our view of readiness is flexible, depending on
a plan's needs and the criteria set forth by its stakeholders. Specifically, we can look at which participants are retirement-ready and those who aren't based on a deemed replacement standard, which can be set by a plan sponsor, advisor, consultant, or participant. Alternatively, we can determine readiness by looking at a plan's entire participant population, then looking at how it breaks down based on different replacement metrics (i.e., 50%, 60%, etc.).
Having the ability to obtain this information is key, because quantifying retirement readiness is becoming the critical measure for plan sponsors, advisors and recordkeepers to analyze — and improve — plan health. Previously, however, plan sponsors and their service providers weren't able to easily access and distill plan data in a way that would enable them to identify shortcomings in their existing design or determine the retirement readiness of their participant population. Moreover, even if they had access to the data, it did not provide visibility into participants' retirement outcomes, nor did it help plan stakeholders accurately diagnose their plan health issues. As a result, employers and their providers may have spent unnecessary time and money on issues that were non-existent or unrelated to resolving their plan health concerns.
In addition, plan analysis data can fall short because it's often dependent on benchmarks and industry averages, which may not be reflective of an individual plan's reality, or specific enough for a particular organization and its plan demographics.
What's more, the data is often available at the plan level, but not at the participant level, which means employers and plan providers may have difficulty determining which demographics are struggling, and with what. In other words, not being able to segment plan analysis data by participant demographics makes it challenging to effectively target plan communications for participants who need the information the most.
In short, by being able to access and analyze plan data at the plan and participant level, employers and plan providers can gain insights that were not previously available to them. In so doing, they can save time and money by quickly pinpointing poor plan health issues, and then identifying and targeting
strategic solutions to help improve and move the needle on overall plan health and participant retirement readiness.
dailyVest Partners with GuidedChoice to deliver an innovative solution
Why does this matter? Defined contribution (DC) plans are becoming the primary way today's workforce expects to fund its retirement. As such, outcome-oriented data is becoming even more important to plan sponsors and providers as they are charged with understanding where participants stand relative to their
individual retirement goals, and then developing strategies to help improve that standing.

To help facilitate that process, GuidedChoice, an independent digital investment advisory firm, and dailyVest, a fintech data and analytics provider, have partnered to offer plan sponsors, administrators, consultants and advisors an innovative solution that for the first time ever, offers a holistic view of retirement readiness data at the plan and participant levels, and enables them to help vastly improve participant outcomes. This solution enables plan stakeholders to look beyond traditional plan health metrics such as participation and deferral rates and account balances, providing them the ability to analyze retirement readiness by demographics such as age, salary, contribution rate, or geography, then act on that knowledge.
Using the PlanAnalytics Dashboard from dailyVest, retirement plan sponsors and service providers can achieve a more thorough picture of key plan successes and issues, identify participants that might be falling behind, provide data-driven advice and ultimately make better plan design decisions. In addition, retirement
readiness metrics can be tracked over time and be securely accessed by plan consultants, administrators and advisors.
As mentioned earlier in this article, in the past, these metrics were not only hard to get and calculate, but plan sponsors and providers couldn't see them all in one place in an easy-to-visualize dashboard.

The partnership between GuidedChoice and dailyVest also provides plan sponsors and providers with access to top-flight data analytics and retirement readiness solutions in the DC retirement plan space. dailyVest's visual data expertise allows for the customization, presentation and segmentation of data according to plan constituents' preferences. What's more, its services are easy to implement on any platform.
For our part, GuidedChoice has partnered with employers, advisors, plan consultants and administrators to deliver best-in-class retirement readiness solutions for more than 20 years. We are focused on helping plan sponsors and advisors gain access to cutting-edge, cost-effective products and services designed to help improve an employee population's overall financial wellness and set plan participants up to achieve their retirement goals. As such, once plan stakeholders have access to data from the dailyVest PlanAnalytics Dashboard, GuidedChoice can provide additional tools and services — regardless of whether or not the plan is integrated with a recordkeeper — designed to help reduce costs and increase fiduciary compliance while improving plan health and participant retirement readiness.
One such option is our suite of personalized target date funds (TDFs), which allow plan sponsors to leverage the underlying funds within their existing investment lineup to create TDFs based on the unique characteristics of their participant population. In so doing, GuidedChoice's personalized TDF offering saves plan sponsors and advisors time by enabling them to utilize their existing investment strategy, which, again, gives them the ability to control plan costs and ensure they remain compliant with fiduciary regulations.
Why this data is valuable
Having this data available at their fingertips is valuable for plan sponsors, advisors, consultants and administrators. For sponsors, who are responsible for plan governance and fiduciary oversight, being able to determine the true drivers of poor plan health will help increase their ability to target specific areas
of improvement at the plan and participant level. What's more, it will help them enhance the plan more effectively and efficiently to bolster retirement readiness, and reduce costs while doing so. Using the insights provided by the dailyVest PlanAnalytics Dashboard, along with retirement readiness solutions from
GuidedChoice, sponsors can spend their plan dollars more wisely to address and fix real issues, rather than "shooting in the dark" to resolve non-existent or non-root cause problems.
Plan advisors also benefit from the data transparency the PlanAnalytics Dashboard provides. Advisors can deepen their relationships with their plan sponsor clients by compiling a detailed, customized and easy-to understand
report that provides a holistic, comprehensive view of plan and participant data, including specific population demographics. This information enables advisors to demonstrate the value they add for the plan and its participants by giving them the data and insights they need to provide actionable recommendations
and formulate proactive strategies to help their employer clients improve their retirement plans.
And, at a time when recordkeepers are being commoditized, being able to provide this type of deep-dive plan analysis data for any plan sponsor or advisor client on their platform serves as a way to enhance their value in the marketplace.
Tapping into the power of dailyVest's PlanAnalytics Dashboard and GuidedChoice's retirement readiness expertise enables plan stakeholders to gain a 360-degree view of plan health at the plan and participant levels, and use that knowledge to take proactive steps to move the needle on retirement readiness. As such, employers can address savings shortfalls among later-career workers, and proactively provide employees with a picture of their retirement income and where improvements are needed to fill in the gaps.
In our 20 years of experience with retirement plan participants, we know that education for education's sake is not effective. However, we have seen that being able to show retirement plan participants their outcomes — that is to say, the retirement income number they are actually striving for — incentivizes them to take action. The data available from the PlanAnalytics Dashboard arms plan sponsors and advisors with valuable outcomes-oriented information they can use proactively with participants to spur them to action.
What's more, having access to this data provides useful, relevant information for advisors to work with individual participants or cohorts by helping them understand where they are at in their retirement journey, where they need help to achieve their goals, and what actions they need to take to get there. Further, it can help employers manage potential costs and staffing implications by giving them the tools and information needed to improve plan health bolster retirement readiness across their participant population. Finally, being
able to dial in to this information enables employers, administrators, consultants and advisors to proactively implement plan design enhancements to set the plan and participants up for success.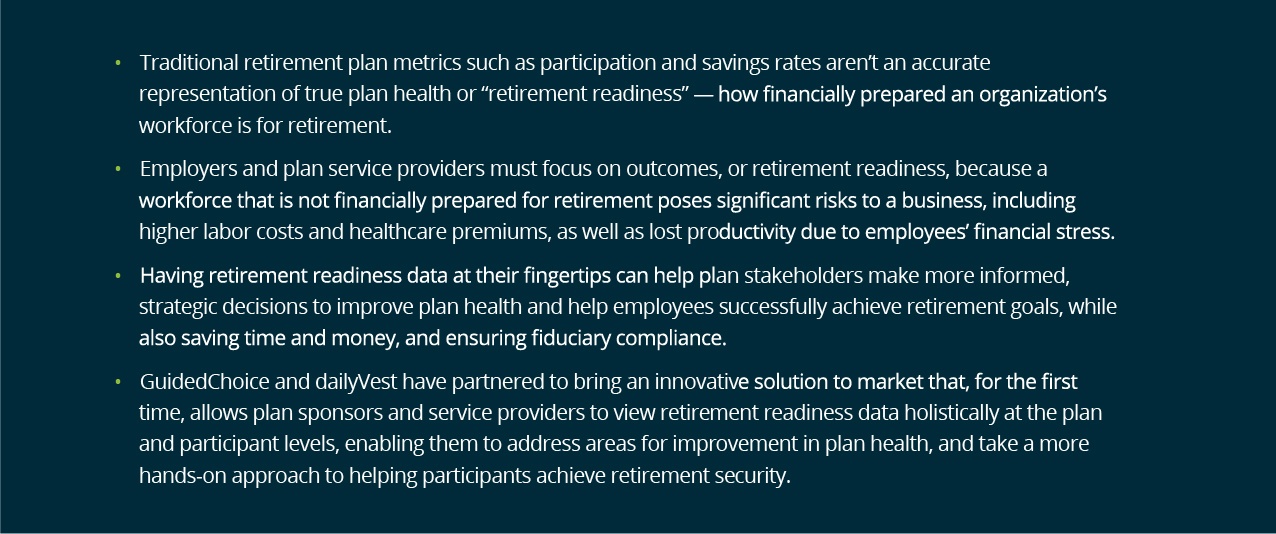 The PlanAnalytics Dashboard from dailyVest is available for plan sponsors, administrators, consultants and advisors now.

For more information about retirement readiness solutions from GuidedChoice:
Call 888-675-4532 x101 or email us at info@guidedchoice.com

For more information about the Dashboard or to set up a demonstration:
Contact a dailyVest representative at 520-577-5729, ext 1