We have seen the future, and it is salty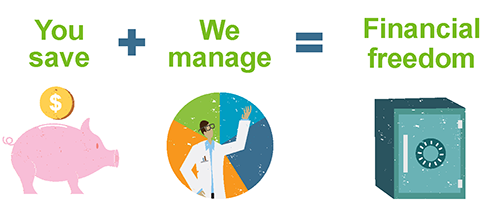 What's more fun than an organic, gluten-free, ancient-grains, salted-caramel holiday cookie? Quite a lot of things, actually. That's often the case with trends: often they're either novelties for the sake of novelty, or ongoing, long-term shifts that have recently gained the spotlight.
Thanks to the heavily regulated nature of our industry, perhaps, we don't see too many of the former. But at year's end it's hard to avoid reading lists of retirement trends to watch for. Most of these fall into the latter category. One good example in Employee Benefit News lays out the top five predictions for 2014.
Simplicity. First on the list is simplification of DC plans. Citing unspecified research, the article notes that "participants are comfortable with… features guiding their participation and reducing their decision-making." We'd have to agree – our customers are certainly on board with making their lives easier.
We founded GuidedChoice to make the complexities of institutional investing so simple to use that everyone can enjoy the results. And for almost everyone, we find that the best retirement planning process comes down to just a single decision: "Implement your personalized strategy now?"
Target-date funds. If a personalized option isn't available, the next best thing may be target-date funds, especially when combined with automatic enrollment and escalation features. Vanguard estimates that by 2017 55% of plan participants will be 100% in such funds, or "another professionally managed option." While we believe the latter approach is the future, not a footnote, these things do take time. Target date options represent the middle stage of a good/better/best progression, and could help many people get a little further.
Outcomes. EBN is referring to possible regulations proposed by the DOL that would show plan participants the monthly income they might expect from their in-plan savings, both today and at nominal retirement age. The projected income would be based on some very simple, standardized calculations, presumably to help compare apples with apples. But that's fine, because the idea is really just to provide an "uh-oh" moment for the vast majority of investors who are likely to come up short.
Now this is speaking our language. Focusing on likely income provides a much more realistic sense of where one stands on the road to retirement. The article above points out that while an account value of $120,000 looks pretty impressive to the median household approaching retirement age, the $500 or so it will provide sends a very different message.
We think outcomes (or incomes) are so important that, with the help of some Monte Carlo simulations and a lot of technology, we always present retirement numbers in terms of income expectations. Not only are they easier to comprehend that way, but encouraging a consistent habit of seeing things in the future tense helps investors get over behavioral barriers to long-term planning that most of us share.
Retirement readiness. "Accepted as gospel by plan participants and plan sponsors… the spirit of retirement readiness will dominate" in 2014. Hallelujah! This idea has been around long enough that actually, we're not quite sure what they mean by it anymore. But we can't think of any framework for what this industry does that isn't about helping people be ready for retirement.
Monitoring. Finally, we are told to expect a shift from cutting the costs passed on to participants to monitoring them. Plan sponsors have been strongly motivated to reduce fees and increase transparency by the strictures of regulation 408(b)(2). Now the conversation will turn to "cost monitoring and fiduciary compliance."
We hope that indicates more than congratulations on a job well done, particularly the bit about fiduciary compliance. All of the above – ease of use, low costs, effective asset allocation, and a focus on outcomes/readiness – add up to what we would call fiduciary compliance in the broadest sense. Which we like to define as simply "doing the right thing for participants."
In the pipeline
Most of the industry trends one reads about at this time of year have in fact been in the pipeline for a decade or more. Some have been in our product line for just as long. Right now they represent a set of best practices, but we'd like to see them become more or less mandatory. After all, preparing for retirement is a critical priority for most Americans. Doesn't everyone deserve the best?
We believe we'll get there. But like many things, collectively we may get there at the very last minute, driven by a looming crisis to finally accomplish what we knew we should do all along. Which reminds us: just as soon as we finish this column, and maybe those fancy cookies, we'll be scrambling to check a few final items off the holiday list…